March 31, 2004
question:

sound tribe or particle?

they're both playing in the chi this weekend, but i probably should only go to one of them....i've seen STS9 before, but it's been a few years. and, i've never been to particle, but have heard good things. to my phunky jamband friends, all input is appreciated!

posted by miss ellen@10:02:08 AM | link |

March 30, 2004
it's been pretty hectic around here - LOTS of work, family stuff, finalizing condo stuff, and all the usual hubbub. grandma is getting better every day, but it will be a long road.

i had to skip out on some previous engagements in order to go visit grandma over the weekend, but sometimes you just gotta break the plans and deal with what life hands you....

on sunday, i went to see the phantom of the opera with my mom and some of her friends. it was a nice escape for an afternoon; great play, too! afterwards we had dinner at the atwood café - always wanted to try that place and now i know why....great food, awesome architecture and interior, not to mention exquisite attention to detail. i can't wait to go back for lunch now!

on the way downtown, i noticed the big production outside my office - the past few days they were filming scenes for the upcoming movie, the weatherman, with nicolas cage. they're all done shooting today, but it was pretty neat to see all that went into filming probably just a few scenes. great boost to our city, though. it's one of four big movies heading our way, including the new batman movie, ocean's 12 and ice harvest.

posted by miss ellen@11:44:50 AM | link |

March 26, 2004
just wanted to ask everyone to keep my grandma lynch in your thoughts & prayers.

she went in to the hospital earlier this week with some pain; turns out she had alot of blockage and this morning they did a quadruple bypass. i just talked to my p's and she made it through the surgery, so that is promising. mom is there waiting to see her and hopefully i can get down to beverly tomorrow!

posted by miss ellen@11:12:17 AM | link |

March 22, 2004
even the NYT gets in on the Illini action, "Illinois Lets Action Speak Louder Than Cincinnati".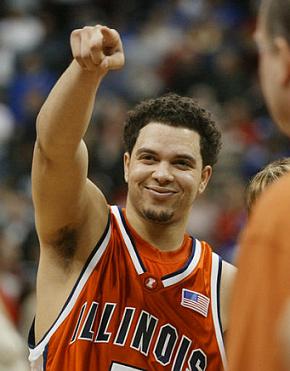 they even told our boy deron that he was "too pretty to play basketball" - yeaaaaaaaah. take those 31 points & ride that bus back to 'nati! we're going to atlanta....watch out, duke

posted by miss ellen@10:56:48 AM | link |

March 19, 2004
my site was down yesterday, but i can't forget to post this link: moveon.org has a great clip of rumsfield, "caught in a lie" - watch him squirm!!

it's one thing to completely lie to a nation and take them to war; it's another when you backtrack & try to cover your ass unsuccessfully. but, remember, nothing, absolutely NOTHING, gets lost in the shuffle anymore. the internet, media and passionate people don't easily forget these things...

it reminds me (yes, yet another chappelle reference) of rick james complete denial / confession all in one:

"What am I gonna do? Jump up and grind my feet on somebody's couch? Like it's something to do? Come on, I got a little more sense than that. Yeah, I member dryin my feet on Eddie's couch. Cocaine's a helluva drug."

posted by miss ellen@10:28:14 AM | link |

March 17, 2004
happy st. pat's day!!

the NYT gets in on chicago's irish frenzy, When Irish Eyes Shine on North or South Side.

this quote is hilarious, though (from a north-side pub owner describing us raucous south-siders):

"They're in the twilight zone. They like to fight. They aren't really Irish that way. We're Irish all the time here."

um, irish all the time? what the hell is that supposed to mean?

all i know is, the south side parade is all about friends, family and good times. and, in less than 3 months, my rowdy south-side family is going to ireland!!









posted by miss ellen@11:16:45 AM | link |

March 15, 2004
i had a lovely time at the south side irish parade yesterday - the weather was cool, but i've definitely seen worse. at least the sun peeked through periodically.

walking back from the parade route, we ran into one of the bagpipe groups playing in front of a house down the block - last year, they stopped off in front of my p's house, which was a treat. lots of talk regarding more arrests, but really, it's always the same - as long as you keep yourself in check and don't bring glass bottles, the cops pretty much leave you alone. only thing missing this year - the giant jewel cart....bummer.

posted by miss ellen@1:00:43 PM | link |

March 11, 2004
just a quick shout out to all you looking for the lil' jon skit - i don't have a link, sorry, wish i could find one! i actually missed it last night; now i'm pissed as i found out the musical guest was none other than the bag lady, ms. badu...

oh well, i ain't that pissed, we got it on TIVO, of course! i'm thinking it'll be nice tonight either pre- or post-survivor.

posted by miss ellen@10:52:55 AM | link |

March 9, 2004
as i flipped through my new copy of real simple last night, i stumbled across one of the features this month, an article titled, sugar nation.

unfortunately, i can't link to the article itself, it's not live on the site. but, either way, it was entirely too timely in light of my current attempt to slowly remove the excessive amounts of sugar from my diet. i'm still so far away from making real progress, but i've found i work best by taking small steps to reach a goal. it sure doesn't help that it's girl scout season; every time i turn around, there is another box of cookies opened for everyone in the office - ack, be gone!

what i found particularly interesting had to deal with why our nation turned so blatantly to sugar: in the craze of the 70s, suddenly fat became the devil, only to be replaced by the equally evil sugar. if fact, this is actually very close to the spine of the atkins movement.

in addition, now scientists are beginning to see that all these "low-fat" foods that flooded the marketplace the last few years, are extremely high in sugars; and, "the irony is that many low-fat foods contain more sugar than the normal version of the same product. fat is often replaced by sugar to add bulk, flavour and texture to processed, reduced-fat foods."

happy eating, folks! knowing is half the battle, right?

posted by miss ellen@10:30:07 AM | link |

March 4, 2004
chappelle's show - konichiwa, bitches! another great episode last night. he brought back the lil' jon skit; i think it was funnier this time around. WHAAAAAAT?! OKAAYYYY! he's on par with some of his impressions.

and, in a tv-themed update, can i just say, SOPRANOS this SUNDAY, SUNDAY, SUNDAY!!!

the only problem: yet another show that conflicts with arrested development. if fox were smart, they'd put AD right after the simpsons and get some better ratings for the show. putting it on at the end of the sunday block is just plain wrong!

posted by miss ellen@11:53:33 AM | link |

March 1, 2004
wow. he might not have won best actor....but damn, did he look good!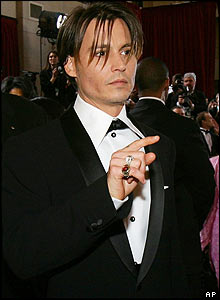 posted by miss ellen@11:08:13 AM | link |