sci & les show at alpine, trey's summer fling, and the big wu/yonder mountain show in chicago on june 2nd. take note, these will be some fun times. get on it!
2001 april 25
back from lake tahoe, now very focused on moving this saturday. trying to get through a few issues with our neighbors, but it'll all work out. here's a quick little picture from Eagle Falls, located near Emerald Bay in lake tahoe: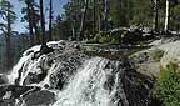 2001 april 18
friends, please check out the chicago scene this weekend. i'm off to lake tahoe tomorrow, but there are some HOT! shows going on all over town.
2001 april 17
just what the kids have been waiting for - a fresh, new design over at phish.com. be patient, it's worth the wait.
i really wanted to show my friends exactly what a 9.25 lb crunch bar looks like - and thankfully someone brought a digital camera into the office today. enjoy! it's scary.
2001 april 16
wow! 1000 journals is one of the most interesting links i've seen in a long time - an interactive project that will follow 1000 journals as they pass hands/worlds/time zones in an effort to see where they go & what happens next........
had a great easter weekend. spent the weekend in iowa city, chilling at my brother's new house - how exciting. and speaking of a new place: i am going down to visit the new apartment tonight! in it's finished glory. i guess that upon first pass, we all happened to miss the little breakfast nook. killer. can't wait to get down there after work tonight.
2001 april 13
friday the 13th, baby! make the most of the day........i'm off for another weekend adventure. this time, i'm heading off to iowa city to see my brother's new home. i'm very excited for chuck & camille - and i know that bud is loving all the space to roam around/nap/play! i am also going to hang out with my friend, lindsey, another kickin' PB who lives nearby. she's gonna come rescue me from the family for a few hours ;-)
run on over to jen durkin's new site! she is the lovely momma who used to front the band deep banana blackout, but decided to part ways and get some truly valuable experience from some funk masters! wishin' her the best of luck in all future projects. this girl can wail!
2001 april 12
it's official - kozmo.com is finally shutting down. that's too bad. their services [movies, dvd's & cheesecake] will be missed greatly!
2001 april 10
okay, here's a pretty dope article about the spread of western culture | such as cell phones, santa claus & cable TV. can this "dynamic cultural borrowing and mixing" remain a good thing?
i am paying the price of a wild/rockin' adventure in urbana this past weekend. man, it gets harder & harder to keep up with those crazy kids ;-) i wish i had more to say, but my head is still a bit foggy. maybe i can drum up some informative links........
* posted by miss ellen 1:39 pm
2001 april 6
well, i wanted to drop a quick line before i jet out for the weekend. it's going to be a rockin' good time - partyin like rock stars once again!? exactly what i've been in need of, a good ol' bash. this is the lovely little scoop of the day:
cheer up, soon sunny forecasts on your morning toast - well, except when thunderstorms are brewing on the horizon.
* posted by miss ellen 4:09 pm
2001 april 3
guess the folks at murder king were getting a little fed up with the pet name........hey, whatever it takes. personally, i can't eat burger king anymore - due to an incident north of the border.
just walked over to the local record store to pick up the new ben harper cd. live - two discs - nice package ;-) know whadda mean?
* posted by miss ellen 2:44 pm
check out the april edition of soapboxgirls.com - the latest edition is the "environment" issue.
i've got the sniffles :( hopefully, i can contain it & get better by the weekend! yes, it's true...........i will be free again this weekend - and not a moment too soon. my best girl is moving to charlotte, NC in a few short days and this is the big Bon Voyage Blow Out Weekend. SJ, i'm gonna miss you. no more jumping in my ride for a quick two hour drive to come visit. although, now it's just a quick flight - but it's just not the same, is it??
* posted by miss ellen 9:28 am
2001 april 1
happy april fools day! jambands.com and jambase.com seem to be playing along with us today ;-)
those northern lights sure are purty!