sprung!

things may get a little quiet for a few days - sit tight. i'll try to make some noise as much as possible.
2001 march 28
this makes me very excited: "The most comprehensive and ambitious reissue program ever for the recordings of Bob Marley, extending for more than a year and spanning more than 18 albums, will be kicked off March 27, 2001, with the release of a special expanded 2 CD edition of his groundbreaking Catch A Fire (Island/UME).
"Throughout 2001 and 2002, Island Def Jam and Universal Music Enterprises (UME) will release Bob Marley music featuring new packages and remasters. The latter will feature complete original artwork plus, in many cases, additional photos and liner notes."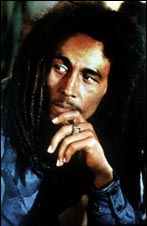 each day it gets harder & harder to drag my ass out of bed. however, each day i move closer to that *magic* day of april 6th, when things will hopefully get back to a more stable pace.
and the little things help make my day so much brighter! thank you, addie for your kind words over on phunkystew.com - the site rocks my socks ;) and thank you miss laura k for your kind words in the guestbook!
2001 march 27
i love it when my horoscope goes something like this: "Let the glow of your personality shine as brightly as possible." - thanks to Astronet.com. I try to be a positive influence on those around me. sometimes, things get rough, but in the end, it all comes down to what's on the inside.
just downloaded greymatter - hope to get it up & running as soon as my little brain can grasp it........this might take awhile, given my excessive work schedule at the moment. the insanity i call "work" is also the reason i have been pretty quiet over here lately. have no fear, i've got some major plans for the site - the biggest being the move to smellen.com - so, stay tuned.
2001 march 23
i did it! tables are starting to pop up all over the place - thanks to some helpful friends and a really helpful site, webmonkey.com.

go illinois! the boys are playing Kansas tonight - gonna be a hot game.
2001 march 22
well, this is from awhile back, but just too fitting.....
2001 march 21
oh boy, is this for real!?
i'm still here! working my ass off.......not doing too much to the page, but still have big plans. still haven't dug too deep into the "tables" and i don't know when i will have some free time in the next few weeks. april 6th is our next deadline - i'll be so ragged by then.