me. [how shameless!] i'm back from charlotte, and i seem to have misplaced my glasses! hopefully i left them in sj's home, but so far i've struck out on locating them. even called the airport in NC, but no go. ariel broke her specs fairly recently, and now i've lost mine. this will give me a reason to look for some new ones - this is exciting!

check out some interesting words from Thom Yorke. tomorrow night i'll be at the concert on the lakefront. part of this interview talks about why radiohead has gone the route of unusual concert venues: "There are a couple of well-known cartels [Clear Channel Entertainment, formerly SFX, and Ticketmaster] who now operate the entire live music scene in America, and we find it extremely surprising that no action has been taken by your government monopolies people." go thom!
2001 july 26
kids, i'm almost outta here. leaving shortly for the homestead, then off to o'hare for a quick flight to charlotte. i'll be seeing another trey show in raleigh, and hanging out with sj. doubt i'll have much time to update, but ya never know.....
doesn't this calendar system remind you of Tom Robbins' still life with woodpecker? brings back memories of freshman year in college, when i was first introduced to the words of TR. i was immediately drawn in by the cover of the book, i mean, i am a die-hard camel smoker.....
pretty interesting stuff, though. the article goes into the how the gregorian calendar is creating a violent universe. i have also thought that the 13 moon cycle has some validity, especially being a woman - cycles revolve around the 28 days...
2001 july 25
go Carter! former US president Jimmy Carter is standing up & speaking out against Dubya. and, in doing so, breaking an unwritten rule in American politics - don't talk shit about the current president. i think it is best summarized in this quote:
"I have been disappointed in almost everything he has done," said Mr Carter.
2001 july 24
taking it to the national level: page six is running a story about the protests going on outside of the new real world house in chicago. even with all this attention, i'm sure none of the footage will make it on to the actual show - harsh reality, no?
2001 july 23
things were a little bit funky around here over the weekend, damn hackers attacking my servers box... but, things are back up & nothing damaging occured to the site. i didn't attempt to update over the weekend, so no big problem for me.
friday night consisted of a big throw-down at the house of blues with karl denson's tiny universe. then, we were off to alpine valley for a day of hot music, and sweltering temperatures. i was thoroughly impressed with trey's new band, and i'm excited to see another show next weekend. i don't think i'd go on tour, or even hit a bunch of consecutive shows, but a show here or there will deliver the funk fix!
2001 july 19
there is still a chance to see radiohead in chicago on august 1st. the venue has been changed, adding a whole slew of extra tickets. just have to get up on saturday morning at 10 am and battle with ticketmaster. good luck, and i'll see you there!
2001 july 18
something needs to be done: THIS IS getting DANGEROUS! a religous bill is under debate in the House right now. where is the First Amendment?! listen to this:
"In addition, groups would be permitted to make hiring decisions based on religion, without regard to state or local laws on the subject..."
are you kidding me? why is this not getting more attention?
2001 july 17
okay, update: i still have no love for ameritech, but we have a phone now. if you are a friend, acquaintance, or just want to say hi, let me know, and i'll hook you up with the new digits ;-)
2001 july 16
i hate ameritech. we've been without a landline for 3 solid months. it has driven me to the point of "crazed maniac"........ be warned, i am not in a proper state of mind right now!
2001 july 15
went to see phil & friends yesterday up at alpine valley. what a great show - les claypool's fearless flying frog bridage and string cheese also played. it was a long day filled with great music!
2001 july 12
check out some of the best moments from the High Sierra Music Festival last week. kinda makes me wish i had gone out to party with the west-coast crew!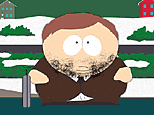 did you watch southpark last night? what an incredible show. the mastermind twist at the end? brilliant.....click on cartman for the episode guide.
here's the scoop: last night's episode will repeat on saturday, july 14th at 10:00 pm. there may be a few other times throughout the week, but this is the first one i found.
2001 july 11
doesn't benicio look like he needs a little TLC? i'm right here, baby ;-)
the wait is over! radiohead on the new episode of southpark tonight - looks to be another great cartman episode!
2001 july 10
i went to see some new music this past weekend, and have been meaning to get a link up for a few days now. my roommates took me out to the empty bottle, to see an Adult. show - a husband and wife duo layin' down some really interesting stuff. definately worth the $10 spent, and the drinks were extremely well-priced - always a sign of a good night! so, listen up and try to catch this interesting show if it comes through your town.
2001 july 9
go Goran - finally wins it all at wimbledon! i am so happy, just wish i could've seen it transpire. monday morning meeting sure came at the worst time.

if you enjoy receiving mail as much as i do, check out nanette's new project, signed, sealed, delivered. she aims to write 365 letters to anyone who signs up for this interesting project. one a day, for an entire year, beginning on July 8th. she's got plenty of slots open, so get on over & get in on the action.
2001 july 6
you heard it here: oysterhead album & tour info coming soon! watched something on VH1 last night, a program called "All Access: Breakups & Shakeups" - the segment on the police was pretty sad. it made my stomach turn a little bit when it mentioned that the police took a two year "break" only to officially call it quits after that hiatus. shit, and now trey is playing with stewart copeland - he better not feed any more ideas to trey about the wonders of solo careers...
whoa, surf's up dude - time to go to class, man. seriously, an australian university has launched a three-year degree in the science of surfing.
2001 july 5
i can't believe it - capriati goes down in Wimbledon semi-final. i hope this match is on when i get home, it is rumored to be quite a game........
hell yeah, my lil' ride is coming home soon. need to start round I of rat detection/termination.
not many details to go on, but radiohead will be appearing on southpark next week. two worlds collide....
2001 july 3
check out phour.com - paulo has a sweet new project called the desktop gallery. i sent in my work desktop yesterday. fun stuff....
2001 july 2
this is absolutely the cutest: helly kitty tetris [link from /usr/bin/girl]
what it takes to be the "best band on the planet" - here are some good ideas...