bears win! i would love to go to a playoff game, i will have to look into that....

tonight will be our first visit to the chihuly exhibit at the garfield park conservatory. the exhibit runs through may, and this will be the first of many visits. also, i'd love to check out the chocolate fest in february.

lastly, i finally made the purchase - the new system is on it's way!
2001 december 27
happy holidays to all my friends, family, and faithful readers!
i'm currently on day 7 of my 12 days off for the holidays - haven't had this much time off since i started working back in august '99. spent the past few days with lots of family on the south side of chicago, and i'll be back this weekend to exchange gifts with my brother & his wife.
up on the agenda today: lots of shopping - can't let those good deals go to waste!
2001 december 23

2001 december 21
today is the lovely winter solstice! big thanks to my friend amy for the lovely e-card reminder - i hope you all make some magic on the longest night of the year.
i recently signed up for a paper making class at the chicago center for book & paper. i signed up for one of the cheap paper days - a one day class that teaches the basics of papermaking. my roommate signed up for the bookbinding class on the same day; sounds like fun!
my company's holiday party was last night. it was a great time, as to be expected. i really enjoy the company of my co-workers, and it was nice to spend some time outside of work with everyone. here's to another great year at realogic!
2001 december 18
yikes, this will have to be a quickie....
the party was a huge success! my lasagna turned out great, and i posted a few recipes last night. the page is very rough, and it isn't in the same scheme, so shield your eyes. that recipe for lasagna is certified 100% yummy, so i can't hold out any longer!
i wish i had more time to carry on, but i'm on the run back to my clients' office. until then, go check out my roommate's progress on her latest endeavor - eat cheap & local!
2001 december 15
yeah - it's time for our holiday potcock! yes, that's a potluck cocktail party, and we've been cooking up a storm: big ol' homemade lasagna, black bean/corn salad, veggie pizza, huge salad caprese, and my roomie's chai, among other things soon to arrive. oh, and lotsa liquor!
2001 december 11
yes, i know i'm terribly behind the times, but i finally took the The Art Test - and i'm quite pleased with the results: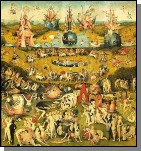 If I were a work of art, I would be Heironymous Bosch's Garden of Earthly Delights.
I am decadent and depraved. I have an eye for small details and love to fit in as much hedonistic pleasure as possible in everything I do. I buck authority and am not afraid to make a statement outside approved channels.
Which work of art would you be?
The Art Test


2001 december 10
my roomies & i had been thinking of switching long distance carriers for awhile. at&t was charging us up to 15¢/minute, sometimes as much as 25¢ during peak hours! something needed to be done & my friend amy suggested working assets long distance. if you're not familiar with working assets, please check them out.
in addition to a low rate of only 7¢/minute, the organization donates 1% of our monthly charges to nonprofits we help choose; nonprofits such as planned parenthood, sweatshop watch, doctors without borders, rainforest action network, to name a few. the full list of 2001 donations recipients is available here.
oh yeah, and i forgot the best part: a free pint of ben & jerry's each month for 12 months - yummy!
2001 december 6
ack - what am i going to do?
the "a charlie brown christmas" airs tonight at 7 pm central on ABC. however, this is the same time as survivor. given last week was only a recap episode, i'm jonesin' for my fix!
maybe i can find someone to tape charlie brown's special. that really is one of the best one's out there - too bad ABC stole it away from CBS last year, otherwise i would not be facing this problem.
2001 december 4
i love to cook. unfortunately my schedule only permits occasional adventures in the kitchen, but they are enough to keep me happy. tonight is another dinner with the "hyde park crew" - my roommate j3s' old roomies from the south side. we've been swapping dinners for the past few weeks, and we're up again tonight.
i'm making roasted rosemary potatoes, with fresh rosemary purchased at stanley's last night. i'm quite excited, as i've wanted to make this dish since i was out in charlotte this past summer. while dinner should run smoothly, the best part about tonight is the dessert: we're taking the crew down to margie's for ice cream. it's the best!
2001 december 2
well, well, it's been awhile my friends! i've been running around town these past few days: more holiday shopping, hanging with the family, catching more shows, and battling our ISP, sprint broadband. for the past two days, i've been using an AOL disc to dial-up, and it isn't pretty ;-) heh.
and now, i'm settling in to watch my chicago bears play another picture perfect game in chicago - yes, it's true, i'm a football girl..... i just kinda lost interest these past few years. the love for the game it back, though. and boy, the bears are looking mighty fine this season! enough sports talk from me this week.
one final note - for the phish kids: "Chris Kuroda has been named this years lighting designer and director for the VH1 My Music Awards 2001 airing live on December 2 at 9/8c on VH1." chris kuroda, aka CK5, is the main man behind the lights for phish, and many phish side-projects. many people consider him an integral part of the phish experience, and no show is complete without the beautiful effects from chris. it's good to see him finding new outlets during phish's hiatus.